Early History
In 1991, a Friendship Bridge delegation of three nurses traveled to Ho Chi Minh City to make an assessment of the nursing conditions in hospitals and nursing education programs.

They found the physical conditions and educational resources of the hospitals and nursing schools in Ho Chi Minh City to be distressed and limited, but found the compassion and determination of the Vietnamese nurse administrators and educators to be very strong despite these limitations.

Following this trip, the FB Nurses Group was founded. Comprised of nurses who supported the development of professional nursing education and practice in Vietnam, two of the FB nurses from the 1991 trip became the primary coordinators; a third coordinator was added in 1995. This group is now called the FB Steering Committee.

From 1991 – 1995, the FB Nurses established collaborative relationships with nurse educators affiliated with universities in Vietnam and nurse leaders affiliated with the Vietnamese Nurses Association. Initial activities of the group involved educational in-service presentations, clinical teaching, and consultation for hospitals in the Ho Chi Minh City and Dong Thap Province areas.

This network of volunteer masters and doctorally prepared nurses who comprised the FB Nurses Group began to evolve with these early activities. As relationships further developed with Vietnamese educators, the agreement for the series of Post-Baccalaureate Nursing courses was confirmed to begin in 1995 at the University of Medicine and Pharmacy in Ho Chi Minh City.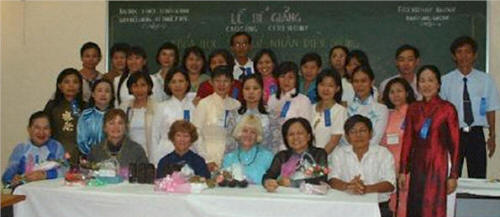 Post-Baccalaureate Nursing Class with faculty and students 2004
POST-BACCALAUREATE NURSING COURSES
The FB Nurses taught 3 series of post-baccalaureate nursing courses to nurse educators and leaders in Vietnam from 1995 – 2004. The courses were taught at universities in both North and South Vietnam.
(University of Medicine and Pharmacy in Ho Chi Minh City 1995 – 1999 & 2002 – 2005 and Nam Dinh Medical High School/Nam Dinh Medical University in Nam Dinh City 2000 – 2001).
The purpose of the courses was to upgrade the knowledge of baccalaureate Vietnamese nurses for practice in Vietnam and to prepare them for acceptance into graduate nursing education. A total of 73 FB Nurses were needed to teach 28 courses to 88 Vietnamese students over this 10 year period. Several FB teachers taught 2 – 3 times with this project.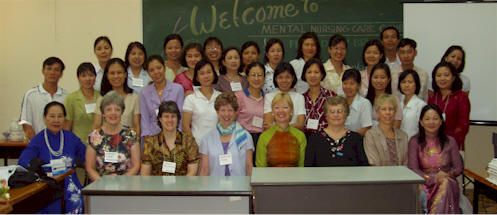 Post-Baccalaureate nursing class with Steering Committee, course faculty and students - 2005.