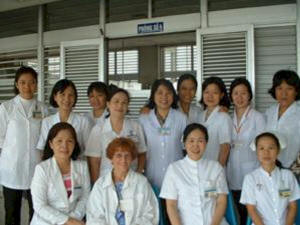 FB volunteer teacher with clinical teaching group, Ho Chi Minh City, July 2005
Participate in an international educational experience that is creating positive change for Vietnamese nursing education and practice!

TEACH IN THE FIRST VIETNAMESE NURSING GRADUATE PROGRAM IN
HO CHI MINH CITY, VIETNAM
An opportunity to increase your understanding of the international nature of nursing practice.
---
Qualifications
Doctoral degree in nursing or related fields.
Teaching experience in academic nursing education.
Knowledge of course content.
Cultural sensitivity.
Flexibility to consult, teach, and travel in Vietnam.
Send Inquiry to Kathy Whitney, Coordinator, FB Nurses Group